Phetchaburi province of Thailand



The Phetchaburi province is located about 150 kilometers southwest from the Thai capital Bangkok. Phetchaburi is also the name of the capital city of this province.
By the way...the name Phetchaburi means the city of diamonds.

It is recorded that already in the 8th Phetchaburi Century existed. In the 11th Century the province had its peak since it was the religious center of the Khmer.
Even today many temples and temple ruins shows of the original magnificence that this city had.

Phetchaburi itself has many temples, even a mountain temple and a drip stone cave which is also a cemetery for monks.
About 40 kilometers south of Phetchaburi city the seaside resort of Cha-Am is located. In Cha-Am the tourism is not so strong and you find wonderful beaches and very good food for reasonable prices.
Especially worth seeing is the National park Kaeng Krachan. This Natural Park is the largest and maybe the most beautiful in Thailand. He runs from Phetchaburi to Hua Hin in the province Prachuap Khiri Khan.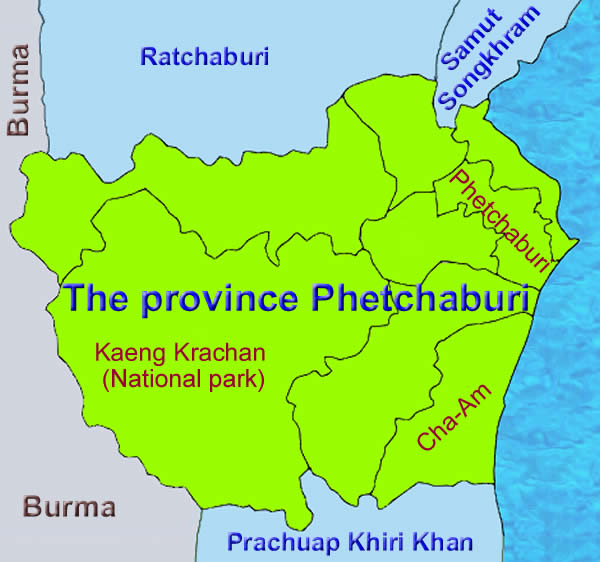 Places of interest:


Here the emblem, the seal of the province of Phetchaburi. In the background you see the Palace Khao Wang. In the right and left are coconut palms and in the middle you see rice fields. Coconut and rice are the main products of the province of Phetchaburi.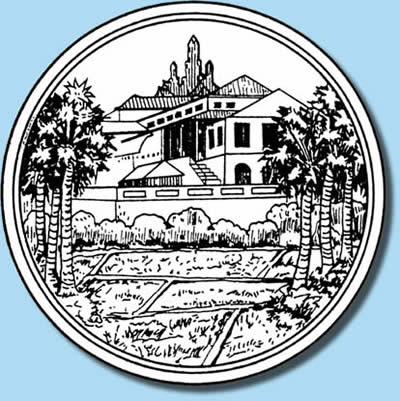 Please write us you experiences, tips and recommendations of Phetchaburi, the province of Thailand!

Please click on >> enter >>.